Ceremonies

From the Heart
"When humans participate in ceremony, they enter a sacred space. Everything outside of that space shrivels in importance. Time takes on a different dimension. Emotions flow more freely. The bodies of participants become filled with the energy of life, and this energy reaches out and blesses the creation around them. All is made new; everything becomes sacred." ~ Sun Bear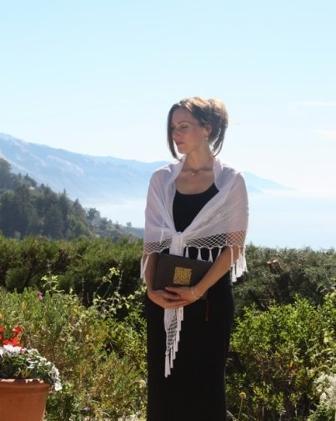 Ceremony Just Right for You
A ceremony can be a beautiful
honouring
and joyous celebration of coming together, a way of acknowledging love that is present and powerful. It is a joy to create ceremony and guide a gathering harmonious with your beliefs and vision, invoking the sacred and meaningful in magical circles of love. I've conducted ceremonies, small and large, including weddings, handfastings, earth cycle rituals, celebrations of life and passing for humans and pets, women's rites of passage and blessings for homes, offices and new
endeavours
. My intention is to bring people together with a sense of unity, sacredness,
light-heartedness
, sweetness and blessing, with
honouring of
all faiths, peoples and traditions. I'm an ordained minister holding credentials and current standing with the International Metaphysical Ministry. I also offer pre-marital and relationship
counselling
.
Please contact me to discuss your needs and explore the creation of a personal ceremony for you and your occasion. Pricing varies depending upon time, location, and preparation. Let's talk.
Expressions of Gratitude
"Thank you so much for facilitating our ceremony. Your sensitivity and guidance has been incredible and we can't express enough how wonderful you are. We looked at each other afterwards and said, "Wow!" You are amazing and we feel so blessed." ~d. & e.
"Thank you so much for being a part of our special day and making us feel at ease. You made all of our wedding dreams come true and were a blessing and a pleasure to work with." ~a. & j. "I am overwhelmed by my feelings of gratitude for the opportunity to share in safety, love, and support.
Thank you for honoring my presence. Your clarity and sincerity are like a beacon leading the way home to the best that we are." ~d.d.
"Thank you for your efforts and presence and for being a part of our special day. The day was perfect. We wouldn't have changed any of it. We appreciate the time spent on making our wedding day so special. We cannot thank you enough." ~k. & j.
"What a wonderful gathering. You are an exceptional teacher and leader and I learn a lot from you. Thank you for being you and helping the world to awaken!" ~r.l.
"What a powerful gathering! I am incredibly grateful and amazed at what is able to be seen, expressed and released. What a blessing. Thank you, again, for facilitating and leading us." ~r.v.
"Thank you so much from my heart for the wonderful ceremony for [our pet.] Nothing felt right until you were there, and then it felt perfect. I know that [our pet] was there and saw how valued and loved she was as an earth angel. ~s.m.
"It was wonderful to work with you and meant so much more to see how much time and work you put into our gathering. It was well beyond what I was expecting and gave me so much to work with and consider. Thank you for giving me a safe place." ~m.m.
"Thank you for being a part of our special day, making such helpful suggestions, and having a ceremony perfectly tailored to us!" ~j.m. & a.m.
©2013-2023 Jacqueline René. Chipping Campden, Gloucestershire, U.K. All rights reserved.